I've been passing out fliers in support of, among others, Justin Pierce for Secretary of State, and for Tom Forese & Doug Little for the AZ Corporation Commission.  But a huge red flag went up when I saw this photoshopped picture of Vernon Parker and Lucy Mason with Obama. I'm for negative ads, but only if they're the  truth.  This is low-ball, gutter politics in the extreme: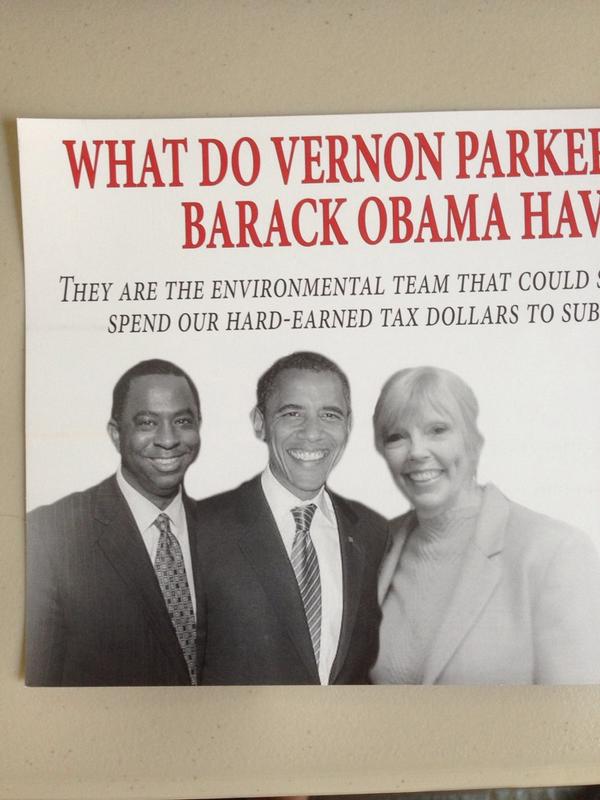 Yes the money for this and other underhanded tactics is dark money, over which the candidates ostensibly have no control, coordination or prior knowledge.  But the first and loudest objections to this cheap shot should have come from Forese and Little--yet all I'm hearing is crickets.
Should APS be able to funnel hundreds of thousands to over a million dollars of dark money, which it collects from us, it's customers, in support of, or in opposition to, potential commissioners who will be its regulators?  When asked directly if this money came from them, APS refuses to say.
At issue is solar energy, which we should all have the option to employ or not as we choose.  Yes Obama and the EPA have given "solar" a bad name by association, but solar energy per se, particularly here in Arizona, can be a reasonable option.  The problem is subsidies for solar or the taxes on it (neither of which should exist, in my opinion), but it is legally up to the AZ Corporation Commission to determine, not APS, a government established monopoly.  Should APS customers be forced to provide those subsidies to solar users?  No.  But again, that should be up to an ACC that isn't in APS's pocket.
_____________________________________________________________________________
This is a mess, but APS attempting to buy its own regulators on the ACC and the Sec of State, is a level of corruption that should override all other considerations.  We must insist on integrity first.
______________________________________________________________________________
 
I'm still very much for Doug Ducey, Clint Hickman, Diane Douglas and Ben Toma (and against Christine Jones).  All this just in time for the 2015 APS rate hearings--where they no doubt will want to raise our rates--thus providing themselves with more dark money?